Constituency

:
Party

:
Bharatiya Janata Party
Birth Date:
21 November 1941
With the rare distinction of being the first woman Chief Minister of Gujarat, Smt Anandiben Patel is known for her mass connect, practical wisdom and hard work. Working incessantly for the development of Gujarat, Anandiben has made significant contribution to the progress of Gujarat in diverse fields as Minister since 1998. Her portfolios ranged from subject of her expertise and passion like Education & Women and Child development, Youth and sports to hard core technical ones like Roads and Building, Revenue, Urban development and challenging ones like Disaster Management. Today, she remains the only woman in Gujarat to be elected as an MLA for four consecutive terms.
Hailing from a humble farmer family in Vijapur of Mehsana district, Anandiben was born on November 21, 1941. Thanks to her parent's progressive thinking, she could pursue her high school studies inpsite of her being the only girl in her school. After attaining a post graduate degree in science, she did her Masters in Education, thus becoming a teacher and then a Principal. Between 1967 and 1997, she became a teacher and then the principal at Mohinaba Kanya Vidhyalaya, Ahmedabad. During this time, she was honoured with Gallantry Award by Government of Gujarat for rescuing two girls of her school from getting drowned while on a picnic. She is also the recipient of the President's Award for best teacher. She also has a number of other awards from various social institutions to her credit.
Along with being a teacher, Anandiben worked extensively for women upliftment. She is known for her strong stand against social evils. Unlike many who prefer only to preach, she demonstrated her commitment for the cause when she stopped a child marriage taking place in her own brother's family. A true believer in avoiding undue social expenses, she got her son and daughter married with simplicity in presence of just a few people.
Even as she was inclined to social issues, she never paid attention to politics. During the drought of 1985-87, she undertook a four-day Nyay Yatra to take stock of the ground reality in the worst affected areas. This is when she came face to face with the challenges faced by the people of the state. She believed that her participation in active politics will give her the opportunity to directly address these issues. She began as the president of BJP's women wing in 1986. Her participation in 'Ekta Yatra' of Bhartiya Janata Party from Kanyakumari to Srinagar in 1992, adds to her identity. Against all odds and threats of extremists and terrorists in volatile situation, with national leaders Shri Murli Manohar Joshi and Shri Narendra Modi, she was the only woman leader from Gujarat to proudly unfurl the National Flag at LaalChawk in Srinagar.
The first milestone of her political career is when she was elected as the Rajya Sabha Member from Gujarat in 1994, where she actively represented the people of Gujarat in the parliament till 1998. With the first-hand experience in the field of education, she understood the shortcomings of the system. Her vision for education reforms in the state materialized when she was made Education Minister in 1998, after contesting assembly elections for the first time and winning from Mandal constituency. This is when she found that promoting education of girl-child, aanganwadi, nutrition of women, eradicating malnourishment, are the areas that needed focused functioning.
Thus, when she won the assembly elections in 2002 for the second time, this time from Patan constituency, she laid the foundations of a separate department of Women and Child Development. She encouraged formation of 'Sakhi Mandals' across the state for the social and economic upliftment of women. Anandiben has always been passionate about issues related to women and children, like malnutrition and female foeticide. Till the extent that, today, instead of being felicitated by flowers and garlands, she prefers to be welcomed by fruits and other nutritious items, which she then distributes among aanganwadi children. She successfully led the state out of a situation of very high school drop-out rate and low enrollment rate. Under the stewardship of Shri Narendra Modi, programmes like 'Shala Praveshotsav' and 'Kanya Kelavani' were effectively undertaken by her as an education minister. These have now institutionalized as annual campaigns, leading the state to attain almost 100% enrollment in schools. During this tenure, she was also the Minister of Sports, Youth and Cultural Activities, when she introduced Shakti Doot Yojana. It provides need-based assistance to talented sportspersons of the state. Recently, as the CM, she has announced awards ranging from Rs 1 lakh upto Rs 5 crores to sports achievers from the state.
Anandiben today, is credited with many popular land related reforms. When she was re-elected from Patan in 2007, she handled the portfolio of Women and Child development, Roads and Building, Revenue, Urban development and Disaster Management. 'Gujarat witnessed revenue reforms only after Anandiben took over as the Revenue Minister in 2007', these words of appreciation by none other than Honorable Prime Minister Shri Narendra Modi speak volumes about her work. She initiated reforms like creating Single Window Clearence system, e-Gram, online availability of record of rights, e-Governance and waiver of registration fee for women buying property. In 2012, Anandiben won the assembly elections from Ghatlodiya constituency. As a Minister of Road and Buildings, among many other effective steps, Anandiben ensured construction of roads linking suburbs and villages having population of more than 500. Under her leadership, Gujarat took urbanization as an opportunity rather than a challenge. Considering town planning as the most vital tool of organized urban expansion, under her leadership as many as 142 town planning programs have been finalized for development of basic infrastructural facilities and public housing. Even in this assignment, her dedication to work for the welfare of the poor and needy was evident from the exemplary housing scheme that she designed for the urban poor under Mukhyamantri Awaas Yojana. Today, as CM, she is implementing this flagship programme with personalized attention.
Anandiben's official foreign tours to China, USA, UK, France, Germany, Netherland, Canada, Mexico, South Africa with eminent leaders like Shri Atal Bihari Vajpayee, Shri PA Sangma, has earned her profound knowledge, understanding and insight on diverse issues.
With rich experience of being a teacher for 30 years and a minister for 17 years, she became the Chief Minister of Gujarat in May 2014. She has seamlessly carried forward the rich legacy of her predecessor Shri Narendrabhai Modi. She adopted a mission-mode approach through a campaign called Gatisheel Gujarat. Monitorable, time-bound targets are being set and met for select developmental works.Loksamvad Setu for on-the-spot grievance redress have won the hearts of the people of Gujarat. Initiatives like celebrating Women Empowerment Fortnight, holding Shramik Kalyan Melas, introducing Rabi Krishi Mahotsav, and declaring Krishi Vikas Varsh, among many others show her focus on pro-people good governance. Her commitment towards Swachh Gujarat and Toilets-for-all in the state has received applause from all corners. Her inclination towards use of technology has given a new momentum to various initiatives under Good Governance through e-Governance. Also, as an initiative in the direction of social and economic upliftment of women, Anandiben announced 33% reservation for women in government services, including police.
With an eye for detailing, Anandiben lays stress on personally reviewing and monitoring of various works of development. Putting in long hours of work every day, she continues to successfully anchor the legacy of Gujarat model of development.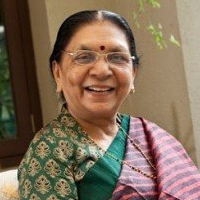 ​

​